Personal Business Models
Organizations have business models — logic by which they create and deliver value to customers. Individuals, too, have personal business models — logic by which they create and deliver value to employers and/or customers. The Personal Business Model methodology can help:
Mid-career professionals
Explicating your personal business model clarifies how you create value and helps you redesign (or even reinvent) how you work.
Managers
A powerful tool for aligning individual and enterprise goals.
Team leaders
Clarify project customer(s) and value, define and communicate member roles and contributions.
Professional advisors
Help individuals and organizations achieve greater success and satisfaction.
Business Model You®
Business Model You, the definitive 257-page guide to Personal Business Models, presents a four-phase design and test methodology. It's a must-read for mid-career professionals, managers, team leaders, and professional advisors.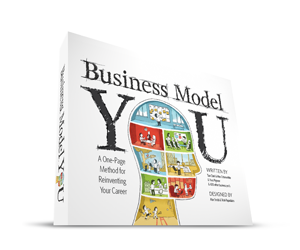 Visit BusinessModelYou.com to receive a free Quickstart PDF guide and training videos, or visit our 12.000 + member global community to learn more and print out the free personal Business Model Canvas.
Business Model You is available now in 19 languages. Business Model You and its sister publication, Business Model Generation, have sold a combined total of one million copies in 26 languages worldwide.